Thursday 06 / 06 / 2019 0
Protein pizza dough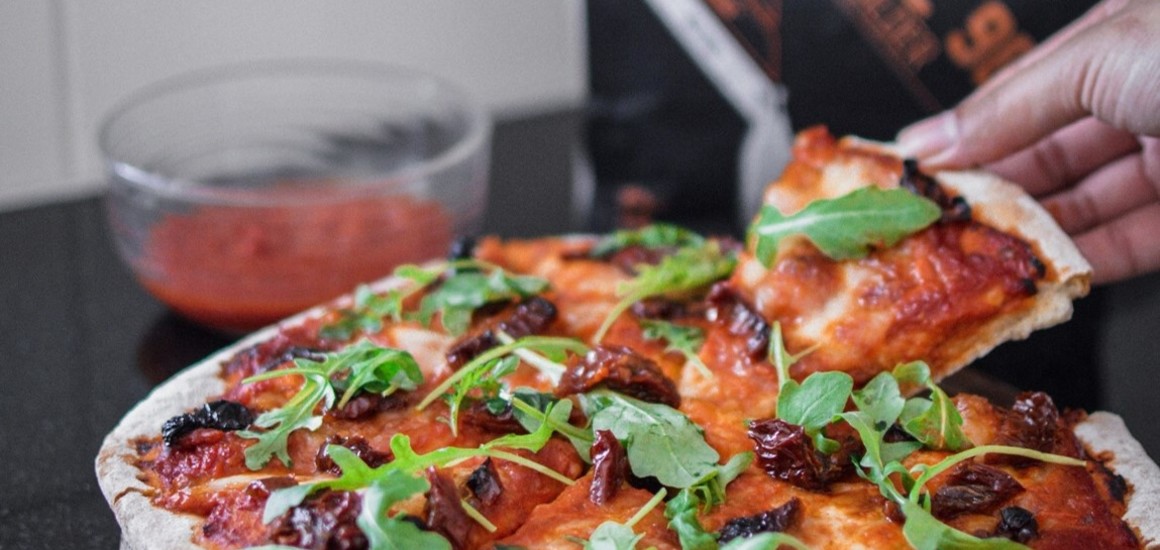 Dough for 1 pizza for 4 (8 slices)
Ingredients:
100g whole grain flour
95g white flour
125ml warm water (not hot)
7g active dry yeast (1 sachet)
1 teaspoon of salt
Nutritional values (per slice):
For the dough only, without toppings: 97kcal | 6g protein | 0,4g fat | 16g carbs | 1,5g fibre
For the recipe on the picture: 127kcal | 7g protein | 1,9g fat | 19g carbs | 1,5g fibre
Instructions:
Warm up the water (10s in the microwave is enough – should be warm but not hot) and add the dry yeast. Stir with a spoon and let rest 5 minutes until small bubbles form at the surface.
In the meantime, blend all dry ingredients in a large bowl: flours, protein powder and salt.
Add the yeast + water to the dry ingredients and slowly mix with a wooden spoon.
When a dough starts to form, transfer on a floured surface and knead for 5-10 minutes, until you obtain a nice and smooth dough, a bit elastic.
Cover the dough with a clean table cloth and place at room temperature, away from draughts, for  an hour minimum. You can also place it in the (turned off) oven. The size of the dough should double.
Work the dough once again on a floured surface, to take out all the air. Roll out in a thin round (for a thin and crusty dough) or a thicker round (…for a thicker crust).
Let rest 15-30 minutes, while you prepare the sauce and ingredients of your choice (see below for a few ideas).
Add the sauce and toppings and bake for 20-25 minutes at 200ºC or until the crust and cheese (if added) are golden brown.
Sauce + ingredients ideas:
Spicy tomato sauce with olive oil, rucola and dried tomatoes (on the picture)
Tomato sauce, chicken, mozzarella, bell peppers
Whatever makes you happy!
Enjoy!