Monday 16 / 11 / 2020 0
Hot Choco Smoothie Bowl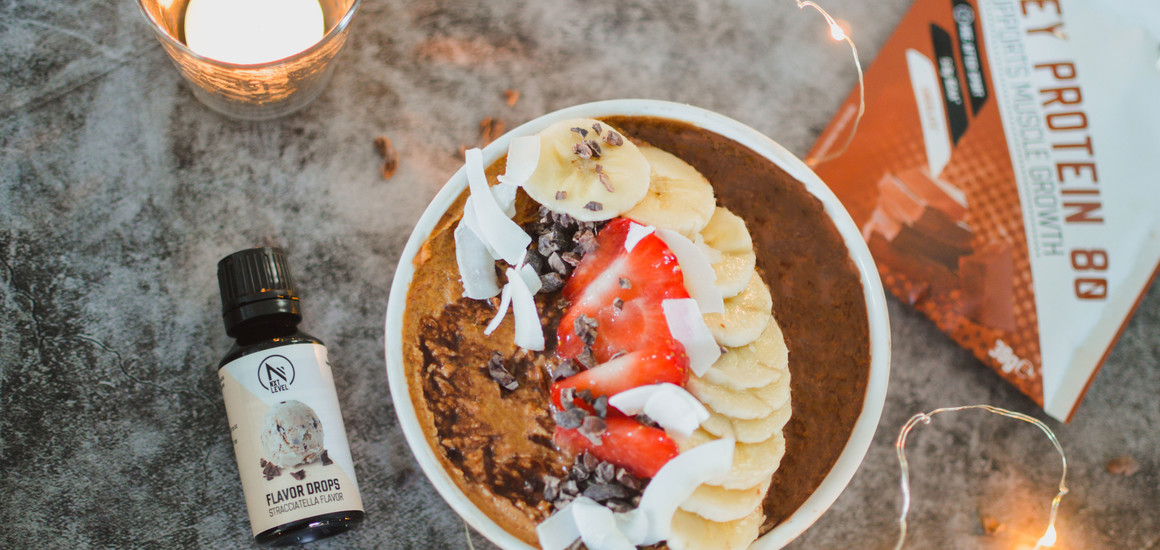 Ingredients:
60g oats
250g unsweetened almond milk
10g cocoa powder
½ tsp cinnamon powder
A pinch of nutmeg
Toppings of choice
Nutritional Values:
Without toppings: 414kcal | 33,7g protein | 11,1g fat | 40,8g carbs | 4,1g fibre
With toppings (1 strawberry, ½ banana, 1 tbsp coconut, 1 tsp chocolate chips):
559 kcal | 35,5g protein | 19,8g fat | 54,3g carbs | 7,5g fibre
Instructions:
In a small sauce pan place the oats, protein powder, cocoa powder, cinnamon and nutmeg and mix well.
Add the almond milk, blend and place on the stove, low to medium heat.
Cook for 3-5minutes, stirring from time to time, until it gets creamy
Use a hand mixer to mix the porridge until smooth, adding a few tbsps of milk if needed/ to adjust consistency as you wish.
Serve in a bowl, add the flavor drops, stir well and finish with toppings of choice.