Friday 08 / 11 / 2019 0
High Protein Vanilla Mug Cake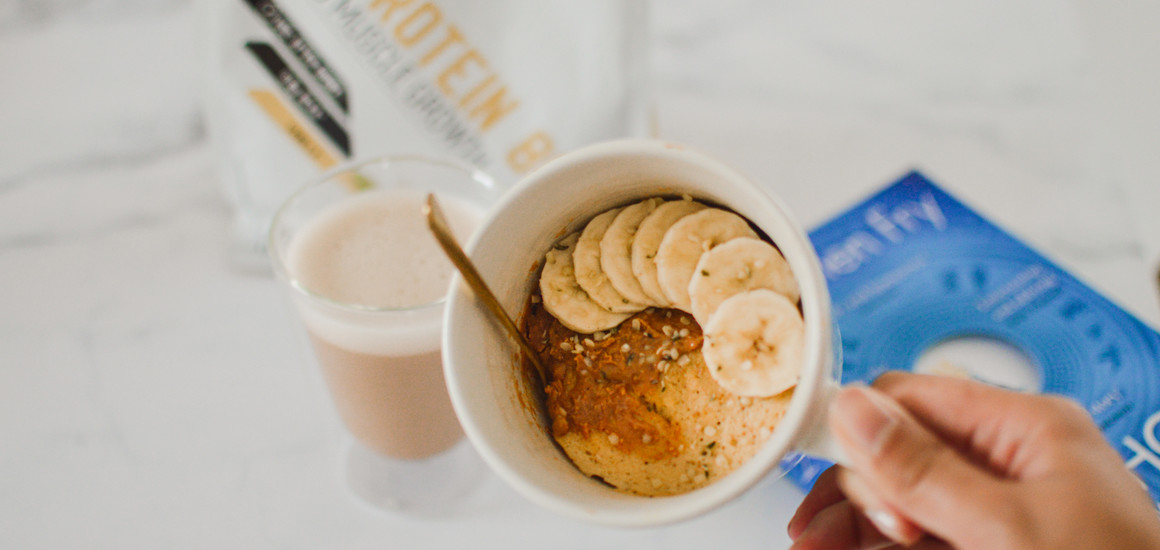 For 1 serving
Ingredients:
20g whole wheat flour
1 egg
40g apple compote, no added sugar
5g melted coconut oil
½ tsp baking powder
½ tsp vanilla extract
¼ tsp cinnamon powder
Nutritional values:
285kcal | 25,6g protein | 11,5g fat | 18,7g carbs | 2,1g fibre
Instructions:
Place all dry ingredients in a large mug a mix thoroughly.
Add 1 by 1 the liquid ingredients and mix with a fork until you get a smooth texture.
Place the mug in the microwave for 1:00 to 1:20 min. – depending on the power of your microwave.
The texture of the cake should be still soft from the outside, since it will continue cooking in the mug for a few more seconds.
Now, the variations!
Strawberry Mug Cake: use Whey Protein 80 - Strawberry and add a few diced strawberries before cooking. Put a few slices on top before serving.
Peanut butter Mug Cake: use the plain recipe, add a tea spoon of peanut butter on top with a few slices of banana before serving.
Chocolate chips Mug Cake: use the plain recipe, add the chips on top of the cake right after cooking. To make the cake even tastier, add some extra fruit on top.