Friday 22 / 11 / 2019 0
High Protein Vanilla Coconut Truffles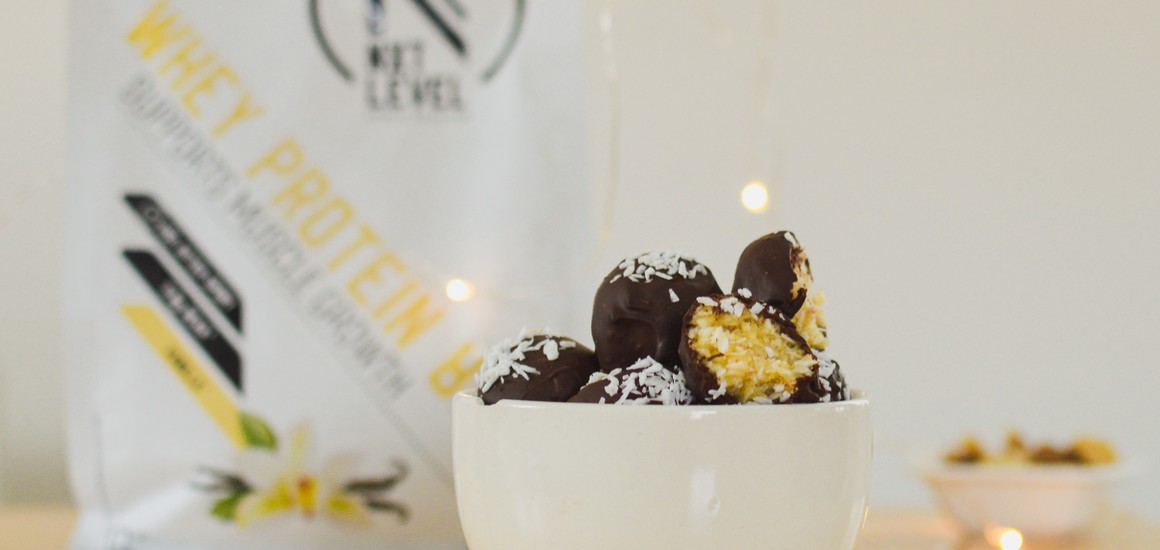 For 6 truffles
Ingredients:
1 scoop (30g) Whey Protein 80 - Vanilla
25g almond flour
10g rasped coconut (coconut powder)
3 tbsp unsweetened almond milk
A pinch of nutmeg powder
For the topping:
5 squares of dark chocolate
4 tbsp unsweetened almond milk
1 tbsp of rasped coconut
Nutritional values (per serving of 2 truffles)
194kcal | 11,8g protein | 14,5g fat | 4,8g carbs | 3,0g fibre
Instructions:
Blend all dry ingredients in a bowl.
Add the milk and stir with a spoon for a few minutes. When the milk is completely absorbed by the dry ingredients, you'll get a big ball that doesn't attach to the bowl.
Divide the ball into 6 parts and use your hands to form small balls.
In the meantime, place the chocolate and the milk in the microwave for approx. 1 min. Blend with a spoon until you get a smooth chocolate sauce (add a tiny bit of milk if needed).
Use a fork to plunge the balls in the chocolate sauce. Place them on a baking tray or plate covered with baking paper and sprinkle with coconut powder. Let dry in the fridge for an hour/ or in the freezer for 15 min.
Enjoy!