Friday 29 / 05 / 2020 0
High protein peanut butter cookie crisps cereals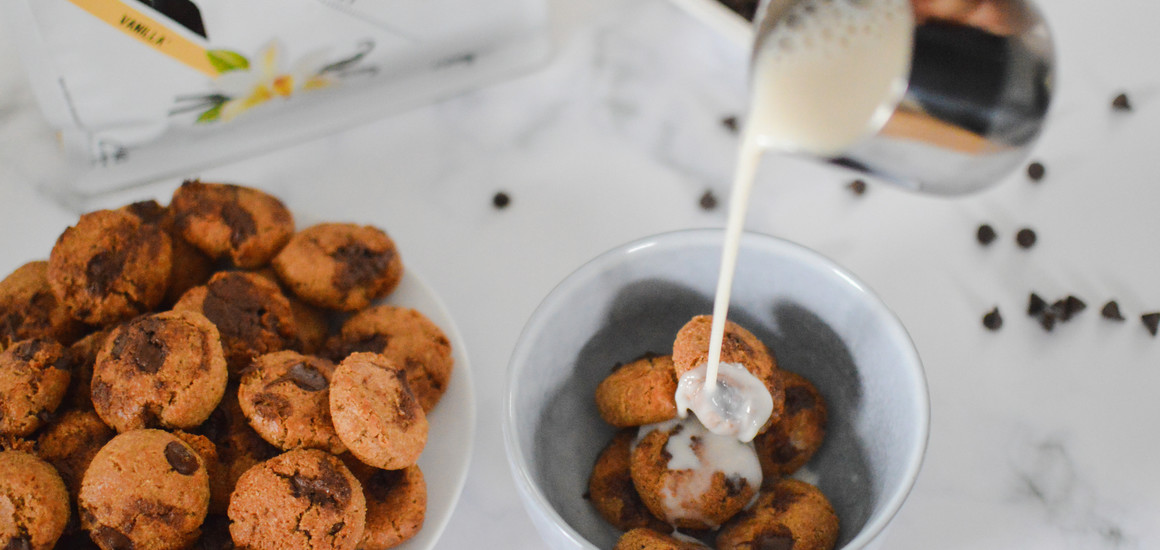 For 8 servings of approx. 50g
Ingredients:
1 egg
2 tbsp of Greek yogurt 0%
120g smooth peanut butter (100% naturel)
25g coconut sugar
120g oat flour
1 tsp baking powder
1 tsp vanilla extract
40g chocolate chips
Nutritional values (per serving):
218kcal | 9,7g protein | 11,8g fat | 17,4g carbs | 2,0g fibre
Instructions:
In a bowl, mix the egg, peanut butter, Greek yogurt and vanilla extract until smooth.
In another bowl, combine the coconut sugar, oat flour, whey protein and baking powder.
Add the dry ingredients to the egg batter and mix with a spatula until it starts to form a thicker dough. Add the chocolate chips. Use your hands to incorporate the chocolate and make a nice and smooth ball.
Cut the dough in 5 pieces, and with wet hands, roll each piece into a long log, of approx. 2cm of diameter.
Place a baking paper on a baking tray and pre-heat the oven at 180°C.
Cut out mini cookies of 1cm from the logs. Roll them between your hands and place them on the baking tray.
Cook for approx. 15 min., until nicely golden.
Let cook and store in an air tight container.