Friday 24 / 01 / 2020 0
High Protein Choco Stick biscuits (aka Mikado)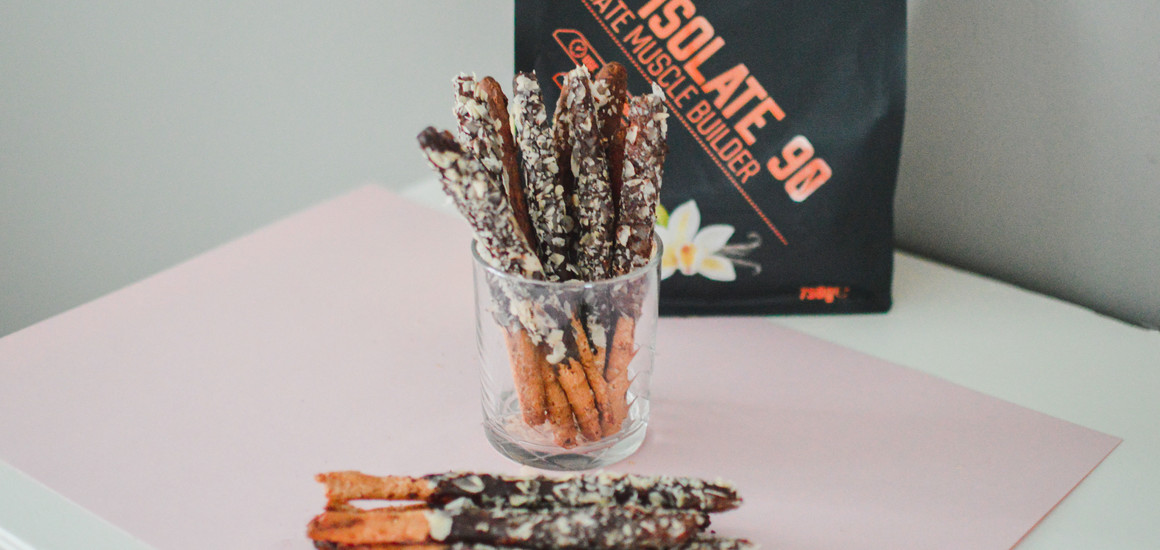 For 18 sticks approx.
Ingredients: 
95g oat flour
20g coconut oil
15g coconut sugar
1 egg
70g dark chocolate
Optional: 3 tbs crushed almonds
Nutritional values (per serving of 3 sticks):
202kcal | 9,4g protein | 11,6g fat | 14,9g carbs | 2,4g fibre
Instructions:
In a bowl, blend the flour, protein powder and sugar.
Melt the coconut oil, add the egg and whisk thoroughly. Add this mixture to the dry ingredients.
Blend all ingredients with a spatula and then use your hands to form a big ball.
Place the ball between 2 sheets of baking paper. Roll up with a rolling pin until you get a 1cm thick dough.
Use a knife or pizza cutter to cut 15cm long strips (15 to 20 – depending on how thin they are).
Use your hands to roll up the strips into sticks and then place them on an oven tray covered with baking paper.
Cook in the oven for 15min at 180°C and let cool down completely.
Melt the chocolate in the microwave (at the lowest power for 3min approx.). Use a tea spoon to cover ¾ of the sticks with the melted chocolate.
Optional: Immediately cover the sticks with the crushed almonds.
Place them back on the baking paper and then in the fridge for 15min in order to let the chocolate harden.
Enjoy!