Friday 12 / 06 / 2020 0
High protein fruity breakfast tarts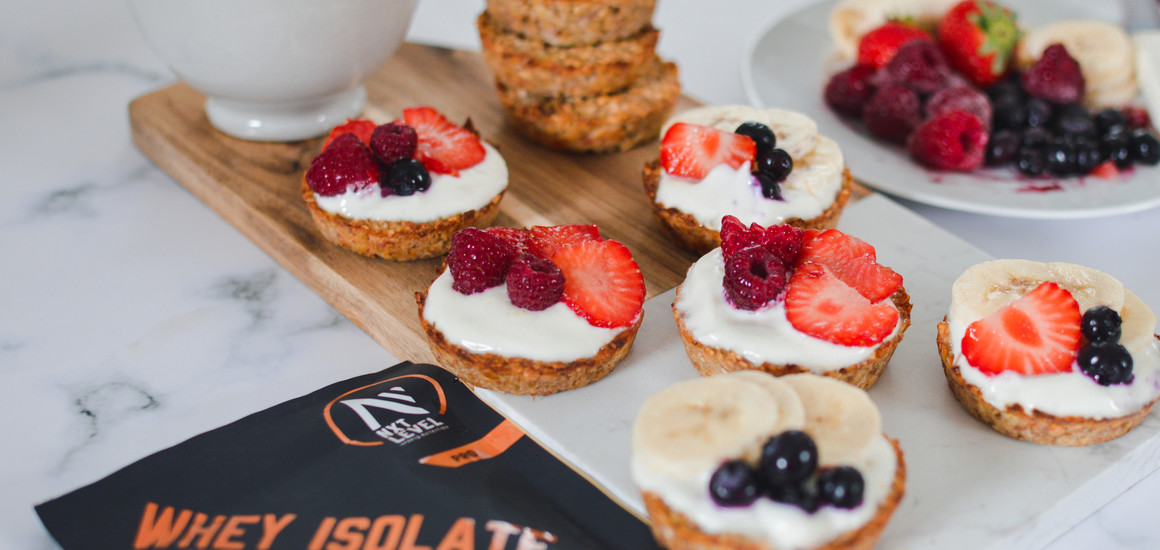 For approx. 10 small tarts
Ingredients:
2 small ripe bananas
130g oat
1 tbsp shredded coconut
1 tbsp melted coconut oil
1 tsp honey
Toppings:
120g Greek yogurt 0% (a bit more for a large pie)
1 scoop Whey Isolate 90 – Vanilla
Fruits of choice: strawberry, kiwi, red fruits…
Nutritional values (per serving of 2 tarts):
Without toppings: 193kcal | 5,8g protein | 7,0g fat | 25,1g carbs | 3,0g fibre
With toppings (yogurt, strawberries, banana, raspberries): 239kcal | 11,7g protein | 7,2g fat | 29,3g carbs | 4,3g fibre
Instructions:
Mash the bananas.
Add the oat, shredded coconut, honey and coconut oil and mix well.
Place in a tart baking tin coated or sprayed with coconut oil, mini-tins or if you prefer muffin tins, making sure you form an even and compact layer. Use a table spoon or glass to make it compact.
Bake in a pre-heated oven at 180°C for approx. 10min for small tarts, and 20min for a big one – until slightly golden.
Mix the yogurt and protein powder, cut the fruits and top the tart(s) once cooled down.