Friday 18 / 09 / 2020 0
High Protein Banana Choco Baked Oatmeal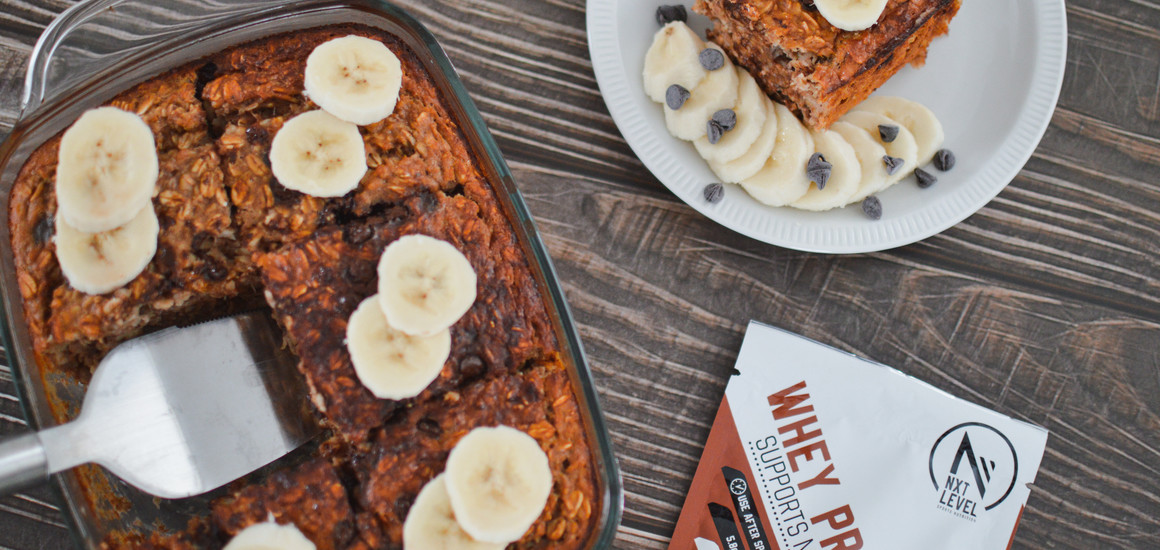 For 6 servings
Ingredients:

• 180g oat flakes
• 1 egg
• 3 ripe bananas, mashed (approx. 300g)
• 450ml almond milk, unsweetened
• 40g Whey Protein 80, Choco
• 30g chocolate chips
• 1 tbsp honey
• 1 tsp baking powder
• 1 tsp vanilla extract, 1 tsp cinnamon

Nutritional value (per serving):
240kcal | 11,2g protein | 6,4g fat | 32,8g carbs | 3,5g fibre

Instructions :
1. In a shaker, mix well 1 scoop of protein powder + 250ml of almond milk
2. Place in a big bowl the oat flakes, baking powder, cinnamon and mix well
3. Add the ripe bananas, egg, honey, chocolate protein shake, the rest of the milk, vanilla extract and approx. 25g of chocolate chips and combine
4. Place the mixture in a baking tin, and top with the chocolate chips
5. Bake for 30 to 40min at 190°C
6. Once cooled down, cut into pieces and enjoy (now or later! – if later, keep in a hermetic container in the fridge up to 4 days).