Thursday 03 / 01 / 2019 0
Chocolate and raspberry protein brownies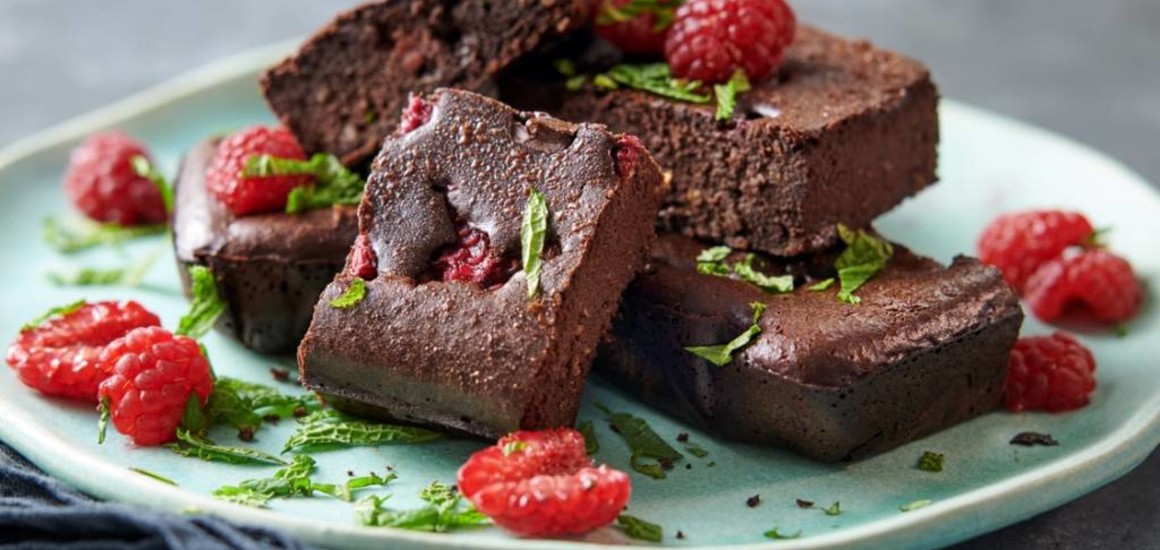 Ingredients:
25g gluten free rolled oats
50g unsweetened cocoa powder
2 scoops Whey Protein 80 - Chocolate
100g unsweetened apple compote
1 egg
1 tbsp honey
1 tsp vanilla extract
150ml unsweetened almond milk
2 tbsp coconut oil
50g chocolate chips, extra for topping
60g raspberries, broken into large chunks
Preparation:
Preheat oven to 180 degrees C. Grease 20x20 cm baking pan with coconut oil. Place oats in blender and blend until you have the consistency of flour. Transfer oat flour to medium bowl then whisk in protein powder and cocoa powder; set aside. Whisk together applesauce, egg, honey, vanilla and almond milk until smooth and well combined.
Add to dry ingredients and mix together until just combined. Heat coconut oil and 25g of the chocolate chips in a small saucepan over very low heat; stir continuously until all chocolate chips and coconut oil have melted together. Gently fold into brownie batter.
Pour mixture into prepared pan. Sprinkle remaining 2 tablespoons of chocolate chips and raspberries on top or swirl through the mixture. Bake for 18-22 minutes or until just cooked through and the top has set. Transfer pan to wire rack to cool completely. Once cool, cut into 12 bars.
Refrigerate overnight before serving.
Click here to buy this NXT Level product: