Saturday 31 / 10 / 2020 0
Booscotti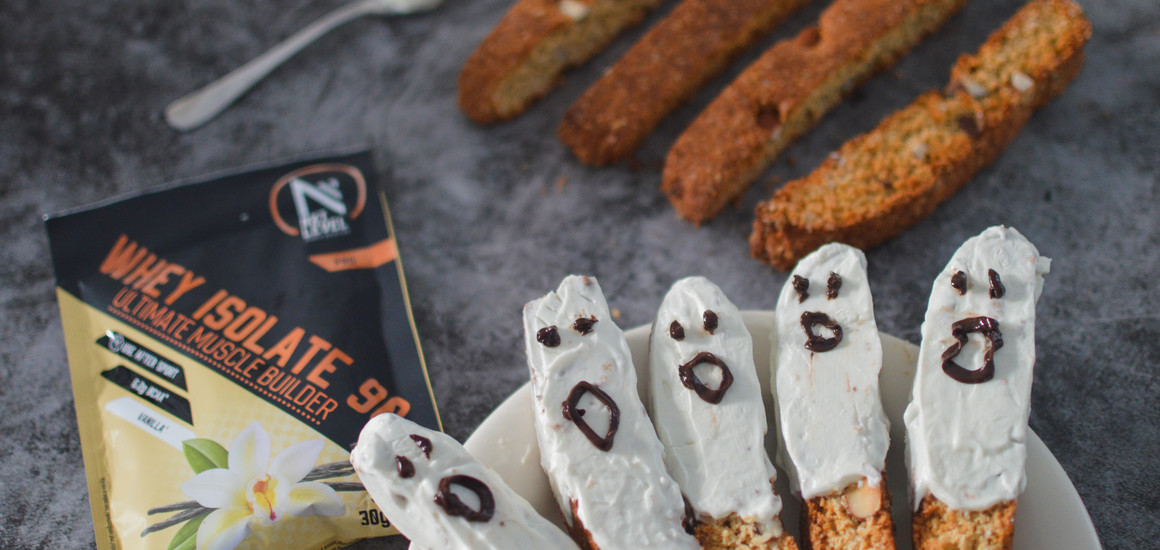 Ingredients:
2 eggs
240g oat flour
60g Whey Protein 90 Vanilla
50g coconut oil
60g coconut sugar
4 tsp baking powder
3 tsp almond extract
20g almonds
Topping:

60g cream cheese 0% + 20g Greek yogurt 0%
Melted chocolate
Nut. Value (per biscuit) :
139kcal | 6,7g protein | 5,8g fat | 14,6g carbs | 0,9g fibre
Instructions:
Blend all dry ingredients.
Add the melted coconut oil and blend again.
Whisk the egg with the almond extract and add to the mixture. Start blending with a spatula and continue with your hands, until you get a ball of dough that doesn't stick to the bowl. Add the almonds.
Preheat the oven at 180°C. Shape the dough into a rectangle (25x15cm) and place on a baking tray. Bake for 20minutes, until the biscuit turns golden.
Remove from the oven, let cool for 20min and cut the biscuit in slices (2cm). Bake the slices again for 15min, flip half way.
Let cool and for an extra Halloween effect, cover with a mixture of Greek yogurt + cream cheese.