Monday 13 / 09 / 2021 0
You can do it! 9 tips to stay motivated on your wellness journey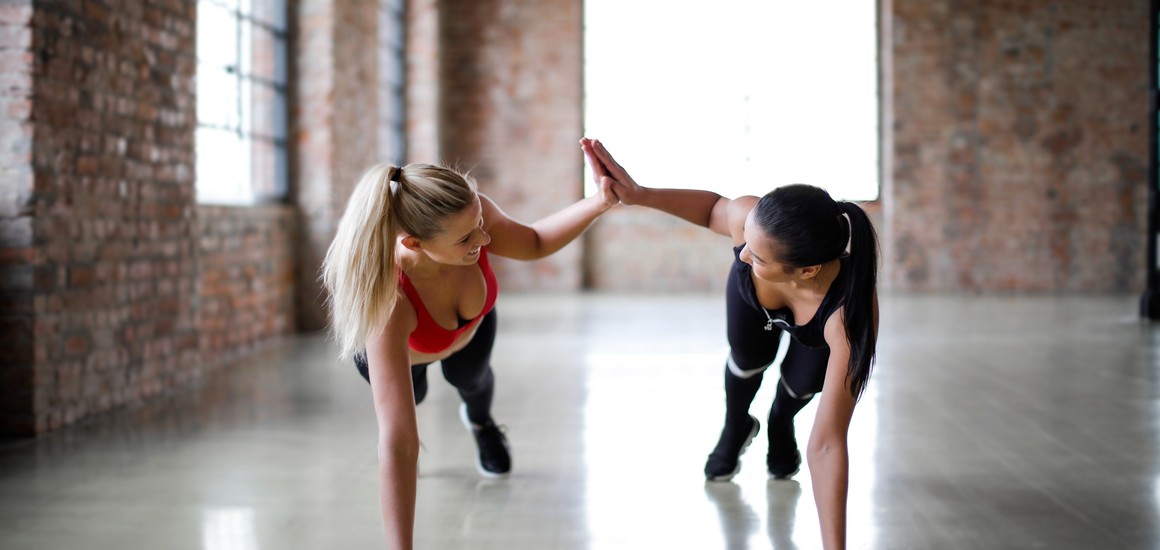 That's it, you are committed: you are going to embark on your own personal wellness journey and change your life for the better. That's amazing, congrats! But we know that it's not always easy to push through difficulties and overcome challenges. So that's where motivation comes into play. Setting yourself smart goals, sticking to a plan and tracking your progress can really help you reach your full potential. Here are 9 tips to get inspired and stay motivated all throughout your journey.
Set a starting and finish line
To get and stay motivated, you have to know where you are going and why! That's why it's important to set yourself a general objective before you start your wellness journey: it can be anything from wanting to improve your overall well-being to just staying healthy, building muscle, losing some weight, staying active… Remember that your objective is personal and can help you stay motivated on the long run. It will give you long-term vision and allow you to focus on what you want to achieve.
Keep moving forward, one step at a time with SMART goals
Once you have determined what your long-term objective is, you can set yourself smaller, realistic goals that you can achieve little by little, every day or every week: this is how you make progress! Your goals should be SMART: Specific, Measurable, Achievable, Relevant and Time-bound. Say goodbye to unrealistic goals, and instead try to make your goals as specific as possible. This will allow you to track your progress and define a realistic deadline for each one of them. Proceed step by step, and don't overwhelm yourself with too much at a time.
Give it time: Rome wasn't built in a day!
Don't expect to see results straight away: change takes time! It's a marathon, not a sprint, and you cannot change habits overnight. The key to achieving your goals is consistency and hard work. There is no need to rush! Instead, stick with a realistic, regular workout schedule and a healthy, varied diet that matches your needs. Try to sustain your efforts on the long term, and you will get results that can motivate you further.
Create your own routine & stay consistent
Habits take time to form, so creating and following a schedule for your daily tasks and activities can really help to stay motivated. Your routine should be personalised and tailored to your needs: that way, you can decide what you want to prioritise and work towards your goals. Do you want to focus on exercising more? Improving your diet? Dedicating more time to yourself? It's your choice! You can either use an app or just simply a diary. Making a list of what you want to do each day can give you a better view of your goals. Plus, is there anything better than the satisfaction of crossing out the tasks you've accomplished at the end of the day?
Be your own competition
You know what they say, comparison is the thief of joy. Your wellness journey isn't a competition, and it shouldn't be about anyone else but YOU. If you really want to compete with someone, why not compete with yourself? In the end, you are your best competitor. So, don't compare yourself to x or y or z that you saw on Instagram, or your neighbour, or the cousin of your friend who knows someone who does… Well, you get the idea! Instead, focus on yourself and on your personal goals, and that will help you stay motivated.
Pimp your routine up from time to time
Your everyday routine shouldn't be boring, and diversifying both your diet and your workout can help make your journey more exciting and hence help you stay motivated. There are plenty of physical activities you can try out and combine to find the perfect match that will keep you energised and happy. Any activity where you have to move your body is good for you: it can be a walk, a run, a dance to your favourite song, a good swim in the pool… Check these 9 fun outdoor activities if you need inspiration! As for meals, why not try out new ingredients, new foods, new techniques? It's so easy nowadays to access thousands of recipes online with just a click of a button. Check out our recipes if you would like to get inspired!
Share your goals with someone
Talking about your goals with other people can help make them more "real". It's no longer just a note you wrote in your diary, it's now something you have shared with someone who can encourage you, hold you accountable and check your progress. That's a good way to stay motivated! You can share your goals with friends, family, your significant other, a gym buddy… Whoever you want! That way, you can receive more support and celebrate your achievements with your loved ones who have been by your side throughout your journey. You can also consider joining a group, be it a fitness class or a group of friends with the same goals. Aristotle once said "Man is by nature a social animal" – well, most of us are, but let's be honest, some people are actually lone wolves. That's the reason why the power of the group shouldn't be underestimated. It's super motivating to be able to talk with people who share the same experience, have the same challenges, can give you real life tips and tricks about how they overcame some issues!
Track your progress and celebrate your achievements
It's important to keep track of how you feel, the workouts that you do, what you eat, take regular pictures, etc., so that you can easily track your progress. This allows you to reflect back on your journey and realise how far you've come. Every success is important and should be celebrated! For instance, if after 6 months of working out regularly you realise that you can do 10 push-ups and hold perfect form, on your toes, when before you couldn't do even one, that's SUPER motivating and you should be proud! However, achieving one of your goals isn't a reason to just go back to your couch and forget all about your goals! Instead, try to find a new challenge, set yourself new goals and push your limits.
Be kind to yourself and don't give up
Nobody's perfect, and life happens! You should always try to be kind to yourself. Surround yourself with positive people who are there to support and encourage you every step of the way. It's okay to feel down from time to time, but this is not a reason to give up on all your efforts: take a break and have a fresh new start when you feel ready to, but don't lose sight of your target. And if you happen to make mistakes on the way, forgive yourself and keep moving towards your goals. It will get easier with each challenge you overcome! Just believe in yourself, and remind yourself why you decided to start your wellness journey when you need more motivation.
To sum it up…
Life changes can be difficult, but they are worth it. A wellness journey requires commitment and time, so don't expect to see results straight away! Find your drive and focus on it. Remember to start small, stay consistent, track your progress and celebrate your achievements. Always be kind and patient with yourself, all throughout your journey. And most importantly, don't give up! You've got this.