Monday 24 / 01 / 2022 0
What's in season? 12 tasty foods to (re)discover in 2022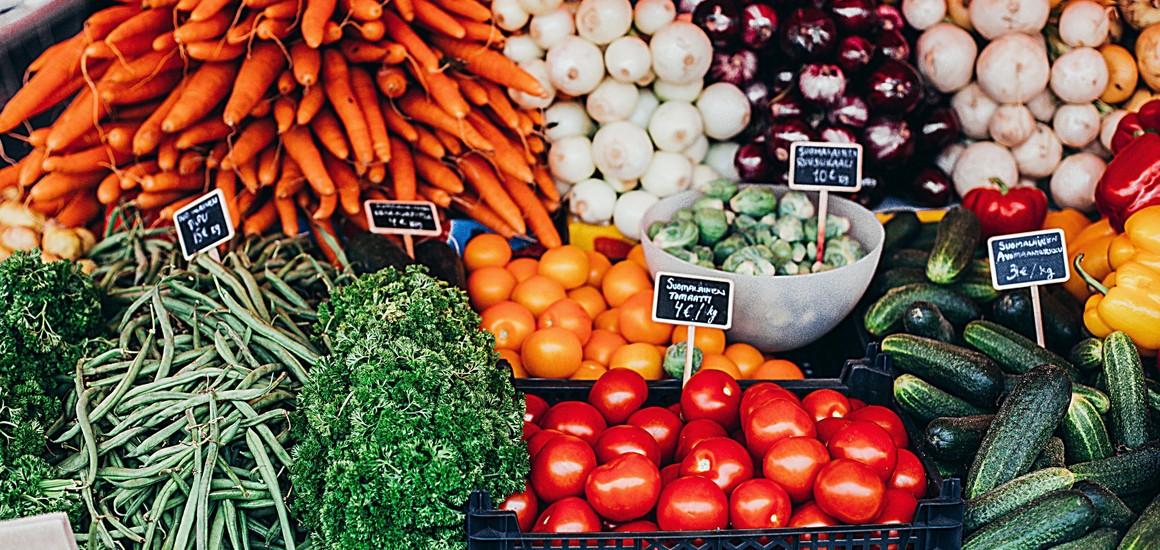 With the new year only just starting, it's time to take a fresh start and prepare for the months ahead. As winter draws to an end, more and more seasonal fruits and vegetables will be available at your local market, allowing you to try new flavours and textures as the seasons go. Here are our favourite seasonal foods that you'll want to try this year, along with their benefits! 
Something to Sprout About in January: Brussel Sprouts
Those little green balls hold valuable nutritional resources like no other! A good source of calcium, potassium and magnesium, they also contain vitamin K1 and C. A perfect cocktail of precious vitamins and minerals, exactly what you need during the colder months!
Enjoy them this way:
Simply sautéed into a pan with your seasoning of choice: garlic, herbs, cream…

In a gratin with bechamel sauce for a rich and tasty winter dinner.

Roasted in the oven until crispy for a nutritious side.



Kale-lelujah! Enjoy Some Kale in February
Kale's reputation as a superfood is well established, and for good reason! This leafy green contains a variety of vitamins and minerals, among which calcium, potassium, and vitamin K1. When we say eat your greens, we mean it! Don't miss out on all the goodness.
Enjoy it this way:
Cook it like spinach in a pan with cream, herbs, garlic, etc.

Turn it into chips! Roast the leaves in the oven with a drizzle of oil and your seasoning of choice (paprika, chilli, garlic…).

If you're not eating it, drink it! Add it to your green smoothies with other fruits and veg of your choice, such as apples, lemon, bananas, etc.
(B)'rock Your World in March with Broccoli!
More green goodness delivered to you! Forget the grudges you held against broccoli as a child, we promise you this veggie has your best interests at heart. Being high in calcium and vitamin K1, broccoli contributes to the maintenance of healthy bones.
Enjoy it this way:
Delicately steamed and seasoned to be served as a tasty side to any dish.

Roasted in the oven if you like it crispy.

Turned into a gratin with bechamel sauce for a hearty meal.
As Easy as Pie: Rhubarb Steals the Spotlight in April!
Rhubarb is quite an unusual plant that is sometimes classified as a vegetable and sometimes as a fruit. What is for sure, though, is that its unique taste makes it the perfect spring food to be enjoyed in different ways. Not only that, it's also nutritious, as it provides you with calcium and vitamin K1. What's not to like?
Enjoy it this way:

In a pie, of course! With a sweet crust and a vanilla filling for the perfect dessert.

Cut into dices and sprinkled

over yogurtover a yogurt

or cereals for a tangy zing.

Turned into jam to enjoy on your toasts in the morning.
Apricots Will Surely Be Your Jam in May
With its sunny colour, apricot really symbolises early summer and the holidays to come. Sweet scented and delicious, apricot is also very nutritious and provides several vitamins and minerals, including potassium and vitamin A.
Enjoy it this way:
On its own: small and easy to pack with you, it'll be the perfect snack when you're on the go.

In a pie: apricot goes well with a bit of cinnamon and will make for a tasty dessert.

Juiced with the addition of lemon juice for the perfect summer drink.
So Berry Delicious: Have Some Blueberries in June
Summer is berry season! Blueberries are not only delicious and low in calories, they're also very nutritious, and a good source of vitamin C. This vitamin is essential because it helps you fight fatigue, and ensures the good function of your skin, gums, bones, blood vessels, and more.
Enjoy them this way:
Drive the Meloncholy Away in July with some Cantaloupe Melon
Low in calories, high in water and delicious, Cantaloupe melons are the perfect summer fruits. They are a good source of potassium, vitamin A and B9. They're also high in water, which is perfect in summer when you need to be well hydrated!
Enjoy them this way:
Simply cut into cubes and stored in an airtight container in a cooler during your summer trips. Bring a fork with you and enjoy your melon wherever you are!

Turned into a sorbet to maximise their refreshing power. Delicious!

Added into a summer fruit salad along with mangoes, berries, peaches…
Stay as Cool as a Cucumber in August
When you need to cool off, cucumber is the perfect food! Thanks to its high water content, it can help you stay hydrated during hot summer days. It also contains potassium, which contributes to the normal function of the nervous system and participates to normal muscle function.
Enjoy it this way:

Sliced and added to a sandwich or a salad.

Cut into sticks and served with a dip such as houmous, guacamole or salsa.

Infused in water with lemon and mint for a refreshing drink.
Be Unbeetable in September with Beetroot
Beetroot is a root vegetable packed with essential nutrients. Not only is it a good source of fibre, it also contains potassium and vitamin B9. With its beautiful deep red colour, it'll add a special touch to your dishes.
Enjoy it this way:
Juiced with other fruits and vegetables (apple, celery, lemon…) for a drink that's rich in vitamins.

In a colourful salad with a nice dressing and quinoa, carrots, feta cheese, etc.

As a steak, sliced thinly and fried in a pan.
(Butternut) Squash your Goals in October
A go-to squash during autumn and winter, butternut squash is rich in nutrients, including vitamin A and potassium. It can be used in a variety of nourishing and warming recipes that are perfect for the colder months.
Enjoy it this way:
Who doesn't like a good soup on a chilly autumn day? Just swap the pumpkin for butternut in our

High Protein Pumpkin Soup

recipe to get a nutritious dish.

Roast your butternut squash in the oven with spices and herbs for a tasty side.

Turn your butternut squash into noodles using a spiralizer and serve with a pasta sauce of your choice.
Come Into Bloom with Cauliflower in November
Cauliflower is more than just ghost broccoli! It's really easy to add to your diet and very nutritious. Low in calories and rich in fibre, it contains calcium, potassium and vitamin B9 among other nutrients.
Enjoy it this way:
In a gratin with bechamel sauce for an indulgent dinner.

Roasted in the oven with herbs and seasoning until crispy.

Grated into cauliflower rice and served with a sauce of your choice.
Stay on (F)leek in December
From the same family as onion and garlic, leeks are very fragrant and have a distinctive taste that allows them to enhance a variety of dishes. Not only do they taste amazing, they also are super nutritious, as they contain vitamin A and B9 among other nutrients.
Enjoy them this way:
As a soup with vegetable broth and herbs to warm you up.

Sautéed then incorporated into mashed potatoes for added flavour.

In a savoury pie or quiche with spinach and peas.
To sum it up…
Every month of the year comes with seasonal fruits and vegetables and new flavours for you to (re)discover and enjoy, the way you like it. Choosing products that are in season will help you make your diet tastier, more varied and more colourful. Don't forget to regularly check out your local markets for newly harvested fruits and veggies and keep exploring new foods as you go!