Monday 21 / 06 / 2021 0
The 10 best seasonal foods you'll want to try this summer!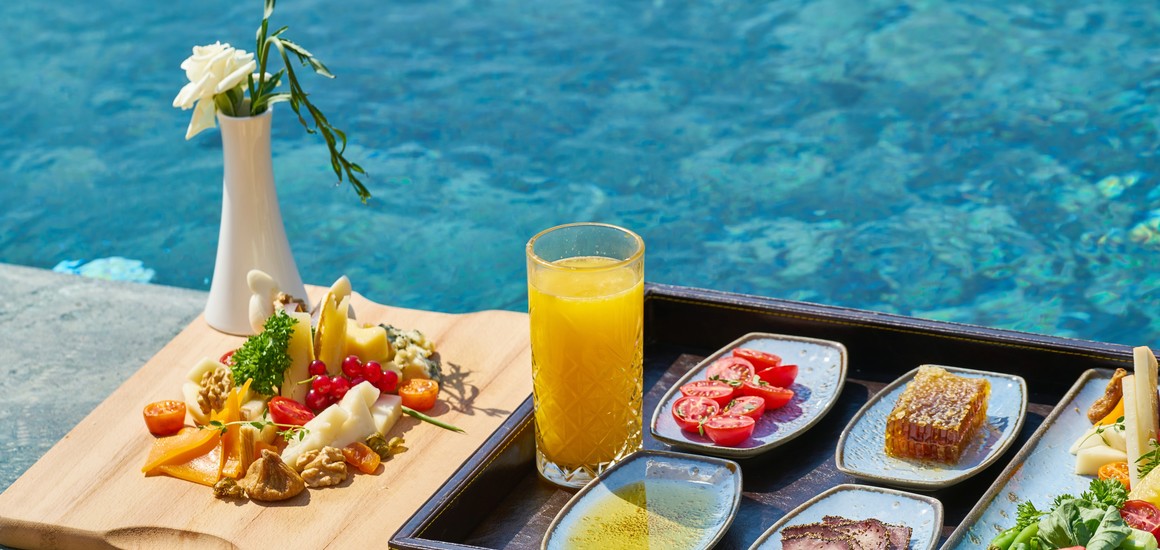 Summer is upon us! And with days getting longer and temperatures getting warmer, you probably want to spend more time outside, and not long hours cooking in a warm kitchen. Luckily, summer is the ideal season to prepare some light and refreshing meals and snacks that are easy to put together (and even easier to eat!). Summer also brings lots of fresh fruits and veggies that are not only full of flavour, but also super nutritious. Here'summer foods, and why they're good for you!


Stay cool as a cucumber… by eating it!
Cucumber has it all! It's super refreshing due to its high water content, which is perfect to help you stay hydrated during hot summer days. It's also nutritious and contains potassium, which contributes to the normal function of the nervous system and participates to normal muscle function. And to top it all off, it's low in calories and really easy to add into your diet.
You can try it this way…
Cut into sticks and serve it with a dip such as houmous, guacamole or salsa for a light, tasty snack.
Slice and incorporate in a sandwich or a salad for that extra crunch.
Infuse in water with lemon and mint and refrigerate for a delicious, refreshing drink.


Have a slice of summer thanks to watermelon
Watermelon is the perfect summer fruit. It's not only delicious, but also really refreshing because, again, it contains a lot of water. This can help you feel full and hydrated for longer. Not only that, it's also low in calories. The perfect summer treat!
You can try it this way…
Cut it into cubes, store it in an airtight container and you have yourself a delicious treat to enjoy on the go! Don't forget to bring a spoon or a fork.
Add it to any salad for a refreshing, sweet crunch.
Make some easy lollipops by just slicing the watermelon and inserting a popsicle stick in the rind. You can also freeze them for an even more refreshing treat!
Check our recipes using watermelon: frozen watermelon slush and watermelon vanilla shake.
Squash your goals with zucchini
Zucchini, or courgette, is a very versatile squash that can be used in many recipes. It is nutritious and contains fibre, which can help you maintain a healthy gut. It's also low in calories and rich in potassium, so don't miss out!
You can try it this way…
Turn into zoodles (zucchini noodles) using a spiralizer or a vegetable peeler and serve it with any pasta sauce for a quick, tasty meal.
Roast in the oven with a drizzle of olive oil and some garlic and herbs.
Add it to vegetable skewers with other veggies such as eggplant, onion, tomatoes, bell pepper and grill them on the barbecue or in the oven for a delicious summer meal.


Enjoy a berry good taste
Summer is berry season! Blackberries, blueberries, strawberries, raspberries… There are so many to choose from, you'll be spoilt for choice! They're not just delicious, they're also very nutritious, as they contain vitamin C and B9. Vitamin C is essential because it helps you fight fatigue, and ensures the good function of your skin, gums, bones, blood vessels, and more. And you know it by now – berries are also low in calories, so what's not to like?
You can try them this way…
Top a Greek yogurt or oats with berries and nuts for a tasty breakfast.
Add them to a salad for a delicious blend of flavours.
Turn them into a berry parfait for an elegant but easy-to-make dessert.


Guac your world with avocado
Avocados are really unique fruits: they have a rich texture and are high in healthy fats. They are also very nutritious and contain a variety of vitamins and minerals, such as vitamin B9 and potassium. Vitamin B9 is not only essential for proper blood formation, but is also really important during pregnancy, as it ensures the healthy development of your baby. Avocados are also rich in fibre and can be used in a number of recipes to suit every taste.
You can try it this way…
Mash them with cilantro, garlic, and lime juice for an easy guacamole dip.
Spread them on toasts and season them with your spices & herbs of choice for a tasty breakfast.
Add them to salads for a creamy texture.
Tomatoes won't make you see red
Tomatoes are super versatile and are a staple food that you can enjoy in many different meals this summer! They are high in water, which makes them hydrating and refreshing, and are rich in nutrients such as beta carotene and potassium. Did you know that your body converts beta carotene into vitamin A? This is essential to maintain a normal vision and support the normal function of your immune system. Tomatoes come in a variety of shapes and colours (yellow, orange, green, purple…), which can help make your meals look even more appealing.
You can try them this way…
Slice them and add them to a sandwich or salad for added moisture and sweetness.
Roast them with a drizzle of olive oil, herbs and garlic for a delicious side.
Stuff them with veggies, lentils, quinoa or the filling of your choice for a filling, nutritious dish.


Corn is sure to a-maize you
Corn is sweet, tasty, and can be enjoyed in many different ways. It is rich in magnesium and potassium. Magnesium is essential to your health, as it supports the proper function of the muscles, contributes to fighting fatigue, and can help reduce stress levels. Corn is also rich in carbs, which is your body's main source of energy. So munch away!
You can try it this way…
Roast it on the cob in the oven, with a drizzle of olive oil, salt and paprika for a smokey, delicious starter.
Add it to a salad, for an extra hint of sweetness.
Mix it with flour, eggs and cream and pan-fry to make corn fritters for a tasty side dish.


I scream, you scream, we all scream… For ice cream (and frozen desserts)!
Who doesn't love a good ice-cream on a really hot summer day? It's the perfect treat to really cool you down, and it's actually really easy to make at home. And if you make it with fruits, you will still get a good vitamin intake from it! You can also add some of your favourite protein powder to the mix to ensure you meet your daily protein needs.
You can try it this way…
Make our simple protein ice cream popsicles by blending frozen bananas, honey, lime juice and our High Protein Smoothie. The perfect summer treat!
Blend the frozen fruits of your choice, lemon juice and honey or agave syrup for an easy homemade sorbet.
Blend Greek yogurt, the frozen fruits of your choice, vanilla extract and honey and you will get tasty homemade frozen yogurt.


Chill out with a granita
Summer is definitely the season for granitas! They're perfect for the hottest days of summer and will definitely cool you down. Get ready for that brain freeze! Granitas are fun and colourful, but did you know you can also make them with protein? Follow our recipes for some inspiration!
You can try it this way…
Try our Rainbow Protein Shaved Ice recipe: all you need is frozen pineapple, our Protein Water, honey, lemon juice and food colouring. Almost too pretty to eat!
Have a Blueberry Protein Mojito (alcohol-free!): just mix our Protein Water with lemon juice, honey, mint, sparkling water and crushed ice. Ready to enjoy!
Blend a watermelon with lime juice and sugar and freeze it for a few hours, and you will get an easy watermelon granita.


Don't worry, be frappé with iced coffee
Sometimes, even hot summer days can't make you forget your love for coffee. And that's alright! But a hot cup of coffee on a super warm day isn't exactly ideal. Do you know what is? Iced coffee!
You can try it this way…
Iced coffee is rather easy to make at home, but we make it even easier for you with our Ice Coffee High Protein Shake. Just pop it open and enjoy! You will get your coffee fix and 25g of protein per serving.
If you want to try something a little bit different, give our Coffee Vanilla Ice Cream Cups a go: they're tasty, easy to make and refreshing!


To sum it up…
Summer is all about having fun and enjoying the outdoors, so it's the perfect time to go for meals that are light and easy to prepare. Luckily, it's also the season for lots of delicious fruits and veggies, so you are sure to find something to suit your taste! Salads and fruit salads, cold soups, raw vegetables and dips… These are all quick and easy to put together, healthy, and perfect to help you cool down and stay hydrated. So enjoy your summer and your summer foods!