Wednesday 10 / 03 / 2021 0
Healthy Snacks: Find your perfect match !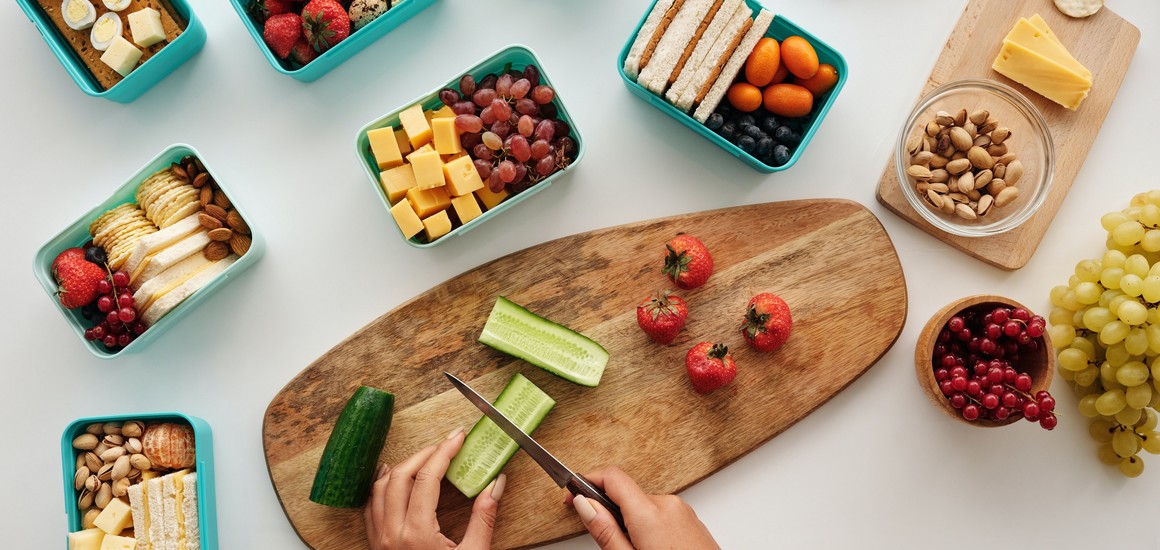 When it comes to snacks, there are so many options and recipe ideas out there, which leaves you with plenty of choice. But what snacks can fulfil your needs the best? It all depends on what your goals are. Here are a few healthy snack ideas for you to try out.
Want a boost of energy? Try these out!
Many of us feel a bit tired at some point during the day, which can affect our daily activities. Having small portions of food such as snacks at regular intervals can help keep your energy levels stable. Carbohydrates are one of your body's main energy sources, so look for snacks that are rich in complex carbs. They release energy throughout long periods of time, so they can help you feel energised for longer. Here are three healthy snack ideas that are high in carbs:
The perfect summer treat! Bananas are naturally high in potassium, vitamin B6 and vitamin C, which are all beneficial to your well-being. They're also an excellent source of complex carbs! Plus, you only need five ingredients for this delicious recipe. So what are you waiting for?
Popcorn is a whole grain, which means it is high in fibres and actually really healthy. As long as you don't drown it in butter, sugar, or salt, that is. This recipe calls for only four ingredients and is a healthy alternative to pre-made popcorn.
Roasted chickpeas are extremely easy to make: just toss cooked chickpeas with a drizzle of olive oil, a pinch of salt and some of your favourite spices (smoked paprika, herbs, pepper, curry powder…), and roast them in the oven for approximately 20 minutes at 200 °C. Easy peasy, and delicious at any time of the day! Chickpeas are packed with nutrients, rich in complex carbs and proteins. The perfect snack!
Feeling hungry all the time? These are for you!
It can be frustrating to always feel hungry. Did you know that protein is the most filling nutrient? So, if you tend to feel hungry during the day, make sure your protein intake is sufficient. Foods that are rich in fibre can also help you feel fuller for longer periods of time, because your body takes more time digesting them. So check out these three filling snack ideas:
These cookie dough balls are not only delicious, but they also contain 28.3 grams of protein per serving! Crazy, right? This recipe is really easy to follow and ready in just a few minutes. This is the perfect snack for when you're in a rush!
With 16.2 grams of protein per serving, this yogurt mousse will definitely keep you feeling full and satisfied for a while. This is a super simple recipe that will allow you to easily increase your protein intake … and will also satisfy your sweet tooth!
Eggs: boiled, fried, scrambled… Whichever way you like them!
Eggs contain a lot of nutrients and are a great source of protein. Plus, they're very versatile, can be incorporated in many recipes or just enjoyed on their own. They can be a quick and easy snack when you don't have much time!
Want to up your vitamin & mineral snacks game? Check these out!
Healthy snacks are a great way to get all the nutrients your body needs. If you sometimes find it hard to eat enough fruits and veggies on the daily, why not nibble on them as snacks during the day? Here are three healthy alternatives to your regular snacks:
Carrot, cucumber & celery sticks in hummus dip
Healthier than potato chips and super easy to prepare! Just peel your carrots and cut them into sticks, then do the same for the cucumber and celery. And dip away! Hummus is traditionally made with chickpeas, tahini (sesame seeds paste), olive oil and garlic. It is naturally high in healthy fats thanks to its sesame seed and olive oil content and is also a good source of protein and fibre. Make sure to check the label to pick a hummus that has high amounts of chickpeas and low amounts of fat. As for carrots, cucumber, and celery, they are packed with vitamins and minerals that contribute to your well-being. What is there not to like?
A serving of fresh berries
You know what they say, fruits are nature's candy! Not only are berries really tasty, they're also beneficial to your well-being. Most berries are high in fibre and provide a lot of valuable nutrients. They can also be incorporated in a variety of recipes.
Nuts: almonds, cashews, hazelnuts, walnuts… Pick your favourite ones!
Nuts are not only delicious, but they are also super nutritious: they're rich in healthy fats, protein, vitamins and fibres. Moreover, they're easy to pack and take with you when you're on the go. You can enjoy them wherever you are: at work, at school, when you're out… Nuts can also be used in recipes for that extra nutty flavour.
Take-away
As long as you enjoy your snacks in reasonable portion sizes, they can be incorporated in a healthy diet. If you are unsure what portion sizes you need, you can check out our calorie calculator that can help you determine your needs. Remember to have nutritious, balanced meals that provide you with all the nutrients you need, but don't skip that 4 pm snack if it can get you through your day and keep yourself energised and productive. So, enjoy your snacks!