Monday 07 / 06 / 2021 0
Be snack-ready for your summer day trip with these 20 tasty snacks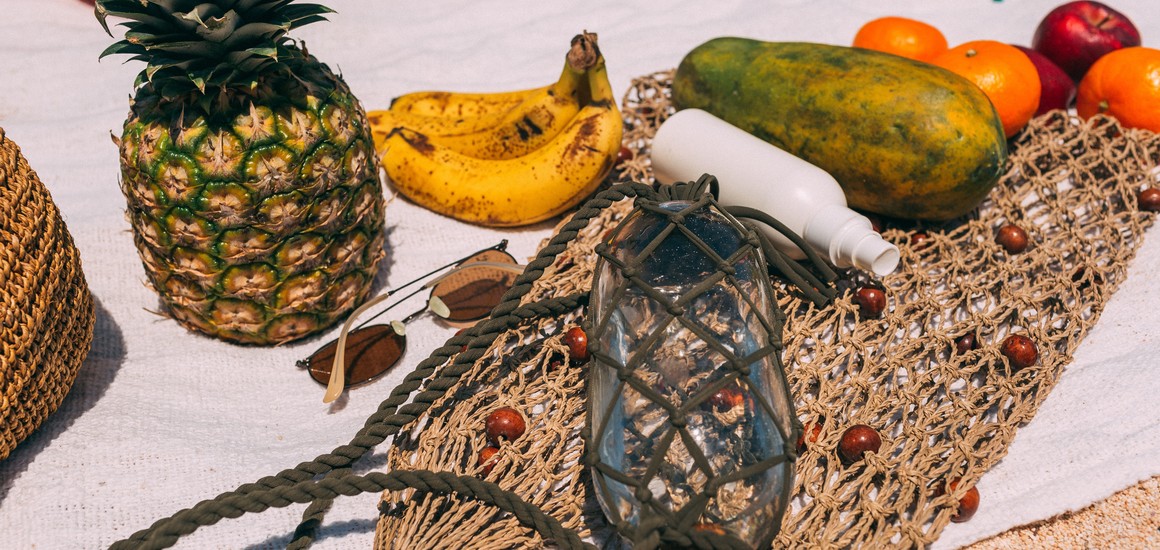 Summer is here with its long sunny days, and it's the perfect time to hang out with friends, try fun outdoor activities, or organise great day trips! Day trips – or, let's get adventurous – road trips are the perfect opportunity to go and explore new places. But there's one thing that you don't want to forget when preparing for a long day outside: your snacks! Why? Take a minute to think about it. It would be such a shame to spoil your day just because of HANGER! Yep, the familiar phrase "you are not yourself when you are hungry" is quite accurate for some of us (well, most of us). So, make sure that you are snack-ready before heading out! Need some inspiration for easy, healthy and yet tasty snacks that will make your day trip a success? We've got you! Get inspired by this mouth-watering list of tasty snacks!


Fruits & veggies to keep you cool
You can't go wrong with fruits and vegetables! And with summer being the season for lots of delicious and refreshing fruits and veg, you'll have plenty to choose from! Not only can they help you stay hydrated thanks to their water content, they also provide you with valuable vitamins and minerals. Remember to keep your fruits and veggies in a cooler bag with ice packs so that they can stay fresh during your trip. Here's a selection of our favourite summer fruits and veg that you can take with you anywhere you go:
Watermelon or Cantaloupe cubes
Low in calories, high in water and delicious, watermelons and Cantaloupe melons are the perfect summer fruits. Just cut them into cubes and put them in an airtight container before storing them in the cooler. Bring a fork with you and enjoy your melon wherever you are!


Strawberries, blueberries and raspberries
Berries are not only delicious and low in calories, they're also very nutritious, as they contain vitamins and minerals. Moreover, they're really easy to take with you anywhere you go: just make sure they won't get crushed by placing them at the top of your cooler bag.


Apples, peaches, apricots, plums…
What's great about these fruits is that they don't need any preparation whatsoever beforehand. Just wash and scrub their skin gently before packing them, and then take a bite whenever you're hungry!


Cherry tomatoes
If you don't have that much of a sweet tooth, there are also some easy and healthy options you can enjoy. Not only are cherry tomatoes cute, they're the perfect size for you to pack and carry around! They're juicy and refreshing thanks to their high water content, but they're also delicious and nutritious. They contain beta-carotene, potassium, vitamin C and B9. You can enjoy them with a slice of bread, in a salad or just on their own, as a tasty snack.


Raw vegetables with a dip
Who said healthy snacks have to be boring? With veggies sticks and a dip, you can have a nutritious on-the-go snack that is not lacking in flavour! Vegetables like carrots, cucumber, celery sticks, radishes, and so on, are perfect to snack on. As for the dip, you can go for houmous, guacamole, tomato salsa, pesto, pico de gallo… Whatever tickles your fancy!


Fruit & veggie smoothies
Increasing your fruit and vegetable intake, made easy! All you need is a liquid base (water, coconut water, green tea, …), some vegetables (spinach, kale, celery, carrots, cucumber, beets, …) and the fruits of your choice (bananas, berries, pineapple, …). Just blend everything together and ta-da, you'll get a healthy, tasty cocktail of vitamins. You can even add a teaspoon of chia or flaxseeds to the mix for extra health benefits, or a scoop of your favourite protein powder.


High protein snacks to keep you full
High protein snacks are ideal on days when you are out and about and keeping active, as they can help you feel satiated for longer periods of time. Moreover, combining your protein intake with physical activity can help you gain muscle mass. And most protein snacks do not require any preparation beforehand, so our protein bars and shakes can fit right into any busy schedule! So what's not to like? Here are a few tasty high protein snack ideas:
NXT Level High protein shake: Chocolate, Vanilla, Ice Coffee
With 25g of protein per bottle and 3 flavours to choose from, our ready-to-drink protein shake is the perfect companion to your summer day trips. No need to add water or anything to it! Just grab it from your cooler, shake it and enjoy.


NXT Level High Protein Smoothie: Banana, Strawberry
These delicious smoothies contain 25g of protein per bottle. You can choose between 2 fruity flavours and enjoy a tasty, ready-to-drink smoothie. Perfect for summer!
NXT Level Muscle Builder bar: Raspberry Cheesecake, Salty Peanut, Caramel Cookie
Perfect to have on the go, just one bar will provide you with 20g of protein. And not only are they rich in protein, they're also delicious and super easy to carry around anywhere you go!


NXT Level Crispy protein balls: Milk Chocolate, White Chocolate & Apricot
Rich in fibre and high in protein, these crispy protein balls contain 15g of protein per 42g serving. You can snack on them through the day or use them as a topping on yogurt. Make sure to keep them in the shade or in a cooler to preserve that delicious chocolate!


Hard-boiled eggs
Super easy to prepare, hard-boiled eggs provide you with 13,5g of protein per 100g. Just keep them in a cooler once they're cooked and enjoy them on the go in a sandwich or a salad.


Low-fat Greek yogurt
Easy to pack and to have on the go, Greek yogurt contains 9g of protein per portion of 150g. To make it even tastier, you can top your yogurt with a few berries or crispy protein balls. Remember to keep your yogurt in the cooler and enjoy!


Nuts: almonds, cashew, …
Most nuts are rich in protein and healthy fats. For example, almonds contain 6,3g of protein per portion of 30g, and cashews contain 6,2g of protein per 30g. They're super easy to carry with you anywhere you go, and very convenient to snack on during the day.


Trail mix
Most trail mixes include a combination of nuts, seeds, granola and dried fruits. It's easy to make your own at home! You can pick your favourite nuts (almonds, cashews, peanuts, walnuts, pecans…), your favourite seeds (sunflower, pumpkin, flaxseeds, sesame…), some dried fruits (cranberries, berries, raisins…) and anything else you'd like to add (chocolate chips, pop corn, …). Just combine everything, put your mix in a resealable bag or any other container and there you have it! The protein content of trail mix varies depending on the ingredients, but most nuts and seeds are rich in protein, making trail mix a good snacking option when you're on a day trip. Nuts and seeds are also good sources of healthy fats, which come with a variety of health benefits. However, if you choose to buy your trail mix from a shop, try to avoid the ones that may be high in sugar or sodium. And remember to check the serving sizes and to put the bag away once you are done snacking.


High-carb snacks to keep you energised
When you are on a day trip, walking a lot, exploring new places and having fun, your body is using a lot of energy! It can be a good idea to have snacks at regular intervals to help keep your energy levels stable. Carbohydrates are one of your body's main energy sources, so when you feel like you need to recharge, snacks that are rich in carbs are ideal! Complex carbs, especially, release energy throughout long periods of time, so they can help you feel energised for longer. Here's a selection of high-carb snacks you can take with you easily – or cook beforehand in prevision of a day out:
NXT Level Peanut boost bar (plant-based)
A delicious mix of nuts, raisins and dried berries, sesame and pumpkin seeds with chocolate, the Peanut Boost bar will provide you with 9,3g of protein and 22,6g of carbs per bar. Perfect to enjoy on the go!


Protein chocolate popcorn
Popcorn is a whole grain, which means it is high in fibres and complex carbs. It is also really convenient to have on the go! This recipe calls for only four ingredients and is a healthy alternative to pre-made popcorn. Remember to keep your chocolate popcorn in the shade or in a cooler to keep the chocolate from melting!
High protein oven-baked banana donut
Who doesn't love donuts? These are perfect to take with you as a tasty snack or dessert when you're on the go.


High protein banana bread
This banana bread is sure to give you a boost of energy when you need it during your day out. Just slice it before you leave so that you can easily grab a slice when you want to.


Vegan banana blueberry muffin
Banana, blueberries and protein all in one muffin? It's a YES! Easy to make and to carry around, these muffins are a tasty treat you can enjoy no matter where you are!


Salted caramel protein balls
With nuts, dates and seeds, these salted caramel protein balls are not only delicious, but also nutritious and filling. They're easy to pack and take with you and you can enjoy them whenever you want during your day out.


Crispy roasted chickpeas
Roasted chickpeas are very easy to make: just toss cooked chickpeas with a drizzle of olive oil, a pinch of salt and some of your favourite spices (smoked paprika, herbs, curry powder…), and roast them in the oven for approximately 20 minutes at 200 °C. Chickpeas are packed with nutrients, rich in complex carbs and proteins. The perfect snack to take with you anywhere you go!


A quick checklist before you go!
A day trip is an exciting event, but to make it really perfect and to avoid any inconvenience along the way, it is best to be well-prepared! Here's our little list of things to check before you go:
Snacks are important, but have you got enough water and drinks for the day? Summer days can get really warm, especially when you are physically active in the sun, so make sure to pack enough water and drinks for everyone.


Don't forget to bring paper towels, wet wipes and hand sanitiser so that you can make sure your hands are always clean before you eat.


Remember to bring all the utensils you need: forks, spoons, knives… You can also bring resealable bags to prevent any open packaging from spilling or leaking.


It's a good idea to bring a bin bag with you, where you can keep all the food packaging and other waste once you are done eating.


If you plan to bring fresh food or any heat-sensitive food, make sure to store it in a cooler bag with ice packs, and keep your cooler in the shade whenever possible.


To sum it up…
Summer is the perfect season to enjoy long days out with your friends or family and explore the outdoors! To make your day trip as memorable as possible, why not bring a selection of tasty, nutritious snacks with you? With just a little bit of preparation beforehand, you can save money and time, and really focus on what matters most: having fun under the sun during your day out! Enjoy your summer and have a great trip!