Tuesday 04 / 05 / 2021 0
Stay in shape this summer with these 9 fun outdoor activities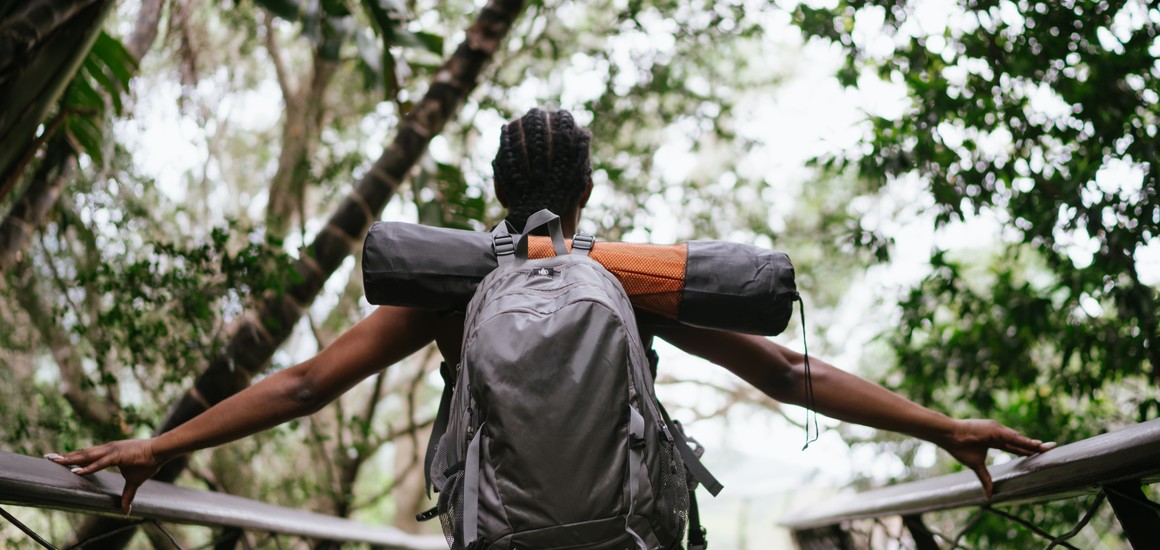 Summer is coming! Sun is shining, the days are getting longer, temperatures are rising and you don't feel like following your usual workout routine? We've got you covered! Because yes, summer vacations are mainly for relaxing and taking it easy, but there are plenty of exciting outdoor activities you can try this summer if you're feeling adventurous. Bonus point: they will even help you stay fit AND you can get a tan while doing those activities! So, what's not to like? Keep reading for tips and tricks on how to make the most out of your summer with our selection of fun outdoor activities.


Why spending time outdoors is good for you
We get you: sometimes, we just want to have a lazy day and stay inside playing video games or watching your favourite TV series over and over again. However, did you know that being outdoors comes with a variety of health benefits, on top of being super fun? It is good not only for your physical health but also for your mental health. So don't miss out!
First of all, being outdoors allows you to get more light exposure throughout the day. Not only does this mean you will get a nice tan by the end of summer, but it also boosts your vitamin D levels. That's right, your skin makes vitamin D when it is exposed to sunlight, which helps maintain healthy bones and teeth and supports the normal function of your immune system. Getting more light exposure can also help lift your mood and improve your sleep. Don't forget your sunscreen, though!
Nature is also known to have a calming effect on our mood. Have you ever noticed how clear your mind feels after a nice walk in nature? This is because switching up your environment can make you more focused. And soothing nature sounds, such as the sound of birds, water flowing, wind or rain can help you relax and lower your stress levels. But the outdoors can also be fun and exciting if you want it to! It all depends on what activity you decide to do. What is certain is that you'll have a great day if you spend time outdoors!
 
The 9 best outdoor activities to try out this summer
The type of activity you can do depends on your location, of course. But there's always something you can do, wherever you are! And as long as you are being active and keeping your body moving, you are doing something good for yourself. Take a look at our list and pick what you think you would enjoy the most:
> Try these 3 fun outdoor activities you can do anywhere you are!
You don't have to travel far to have fun in the outdoors! Even if you spend summer in the city, there are outdoor activities you can do. Here are a few ideas:
Go on a nice walk to the park: Walking is one of the most underrated forms of exercise! You can do it anywhere and it comes with a lot of health benefits. Most cities nowadays have green spaces where people can meet, exercise together, go on walks, etc. Find one near where you live and go explore on foot! Don't forget to bring a refillable water bottle with you.


Go on a bike ride: Bike rides can be a fun way to explore your surroundings while exercising! Look up cycling routes near you and get ready to go on an adventure. Make sure to stay safe, check your bike and all your equipment before you go and plan your route ahead so that you don't get lost.


Go rollerskating: Rollerskating is a fun and unique way to exercise that you can do practically anywhere, as long as you have access to flat surfaces. Get used to your skates at home before you head outside and don't be afraid to wear safety gear to protect yourself.


> Check out these 3 enjoyable beach activities to keep you moving!
If you are lucky enough to be at the beach this summer, apart from sunbathing on your towel, there is a lot you can do! Get some inspiration here:
Go swimming or scuba diving: If the water temperature allows it, going swimming is a great workout to build endurance and strength! And for people who look for more extreme sensations, scuba diving can be an amazing experience. Of course, make sure you stay safe in all circumstances and follow instructions closely. Pro-tip: swimming is probably the only workout you can do without sweating!


Try paddle boarding: Paddle boarding is a great exercise to strengthen your core and balance while still having fun. Plus, there are different ways you can use a paddle board depending on what you like: you can use it to surf, race, or even do yoga!


Play some beach volleyball: If water isn't your thing and you would rather stay on the beach, why not play volleyball with some friends? All you need is a net, a ball, and you're ready to go! Beach volleyball is an excellent cardio exercise that can strengthen your endurance. Make sure to drink a lot of water if you're exposed to a lot of sunlight!


> Explore nature while working out with these 3 exciting activities!
If you are spending time near a forest, a mountain or a lake this summer (or all three at the same time, lucky you), good news: there are plenty of outdoor activities you can try out! Here are a few ideas to get you started:
Go on a hike: Hikes are a great way to discover surrounding natural areas while exercising. Not only will this help you keep fit, it will also take you to beautiful landscapes where you can observe wildlife, plants and enjoy beautiful views. Look up hiking routes near you and get ready!


Try trail running: If you want to try something that is a little more intense, trail running is made for you! It will help you burn a lot of calories and build your endurance. As opposed to road running or running on a treadmill, trail running allows you to enjoy nice views while you are exercising. Remember to start slow and easy! You can easily find local trails online, along with all the information you need such as duration, difficulty, etc.


Give kayaking a go: If you have access to a lake or river, why not try some kayaking? It is an excellent cardio workout that will also work your arms, core, and back muscles. Kayaking can also help you relax and allows you to enjoy the scenery! So, what's not to like?
These are so many things you can try, but remember that any activity that keeps your body moving is good for you! So check out what is available around you and pick what you prefer!


Before you embark on your outdoors adventure, make sure you are all prepared and ready to go! Your safety should be a priority at all times. Luckily, there are a lot of easy steps you can follow to ensure you will stay safe during your day out. Here a few tips to remember before you leave for the day:
Pack enough water (and some snacks): It's important to drink water throughout the day, and even more so when you are out and about, being physically active and in warm weather. So before you leave, take some water with you and make sure you can either refill your bottle during the day or simply buy more refreshment if you need it. It can also be a good idea to pack a few snacks with you before you leave: some fruits, nuts, or a protein bar, for example. Snacks like our Peanut Boost bar or Energy bar can keep you energized during your day out.


Don't forget sun protection! It's important to protect yourself from UV rays, especially if you are going to spend the whole day in the sun. Make sure to bring sunscreen, hats and sunglasses with you. Try to avoid being in the sun during midday hours and rest in the shade when you can.


Keep a first-aid kit with you: You never know what could happen, so it's best to be prepared! It's a good idea to include the following in your first-aid kit: plasters of different sizes, gauze dressings and surgical tape with scissors, tweezers, antiseptic wipes, spray or cream to relieve insect bites, pain relief medication, and any other item you may need during the day. Of course, what you may need depends on the environment you will be in, so make sure to prepare beforehand and pack everything that you need!


Wear comfy clothes and check the weather: Weather can change rapidly, and unexpected rain or thunder can really ruin a day out. So make sure you check before you plan, and wear clothes that will not interfere with your physical activity. It's also a good idea to wear several layers of clothes if you are unsure about the temperature: that way, you can just take a layer off if you need to. Waterproof shoes are also a good idea if you might be going through muddy soil or water.


Learn your surroundings before you go: Getting lost in the woods isn't exactly anyone's idea of a perfect day out! Before you go, have a look at a map or print one to take with you. There might be areas where you don't get signal on your phone, so having a paper map with you can help. Make sure your phone is fully charged before you embark on your adventure and stick to the trails.


To sum it up…
Summer is the perfect time to get out of your comfort zone and explore your surroundings! Not only will outdoor activities help you stay in shape, they will also have a positive effect on your mood and overall well-being. Before you go, make sure you are prepared, bring everything you need, and follow all safety instructions and signs (such as trail marks) that you can see or are given. Then just go out there and have fun on your adventure!